Alliance Data
Ethics Brand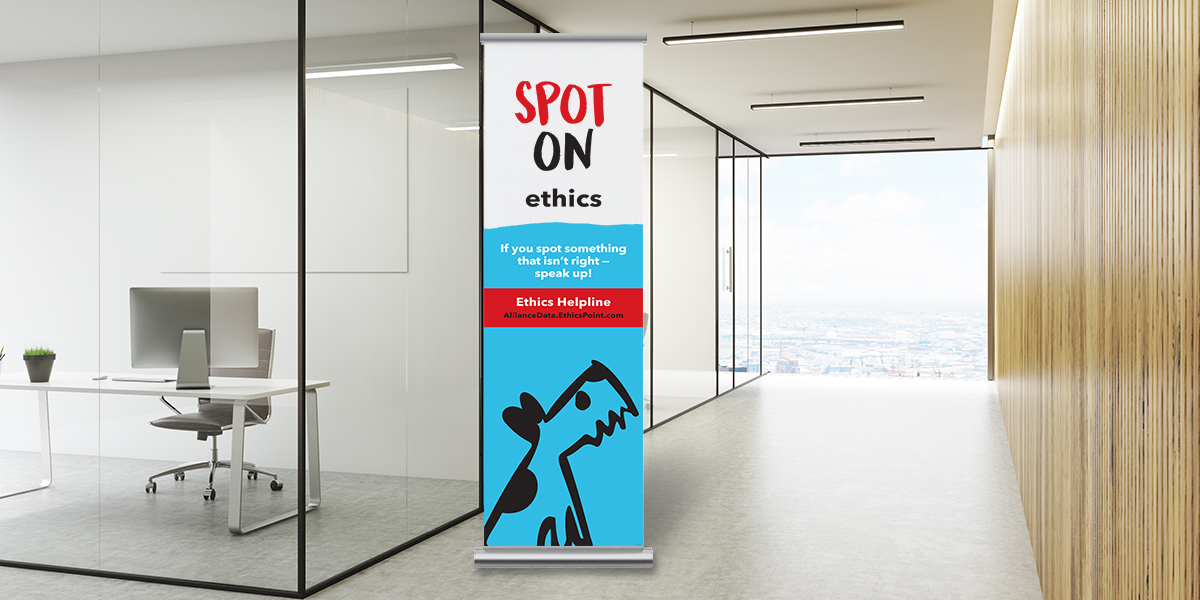 CLIENT
Summary
By taking the "corporate speak" out of ethics and communicating it in a friendly and authentic way, we were able to help employees see the value of doing what's right. And they learned what to do when the situation arises.
Challenge
Make ethics more relatable and less boring/legalistic
Help employees know the right way to respond to typical situations in the workplace
Make reporting ethical violations easier and acceptable
Solutions
The friendly "Spot On Ethics" brand
Intranet page with relevant and timely content to make situations more authentic
Launch campaign using a variety of tactics to bring this to the forefront:

Environmental signage
Onsite activities
T-shirts
Graphic email series
Video series
Results
Nearly 1,000 employees participated in the online "scavenger hunt" on Inview to earn recognition points
Over 66% open rate for launch and reminder graphic emails sent to associates (including 7% click rate to the ethics web content)
High satisfaction and positive feedback on the brand and launch-week activities
1,000
EMPLOYEES PARTICIPATED IN SCAVENGER HUNT
66%
OPEN RATE FOR LAUNCH AND REMINDER EMAILS
---
Let's Be Partners
If you're ready to change how your people use their benefits, experience company culture and take actions that drive success at work and in life, we're ready to help. Together, we can raise the bar on your employee communication and produce measurable results so that you can grow and thrive.